Android 2.3.3 on the Coby Kyros MID7015


Recently I upgraded my Kyros to yet another version of Gingerbread that has made its way to the Coby Kyros MID7015. The entire process only took about 15 minutes, with the flashing and the other steps that are meant to improve the performance of the tablet. To start out the process is very similar to installing 2.3.1 in the Kyros with a few extra steps.
First things first you have to have the android 2.3.1 rom installed. This is all cover in a previous post. To read click HERE. There is also a set of files that have everything you need to install 2.3.1 then 2.3.3. Now with that in the past this process is very similar and maybe even a little easier because you know how it should go. You will need to get the 2.3.1 upgrade to 2.3.3 files. A link will be placed at the end of the post. This upgrade has 12 steps. The first is using FWDN to flash the image files to the tablet. However before this is done you should get ClockWorkMod installed and make a backup of the 2.3.1 install so you can go back if you want. I am assuming to have already have FWDN working so I am not going to cover setup of it. You just take the three image files and load them into FWDN. Heres a pic straight from Tipstirs install files.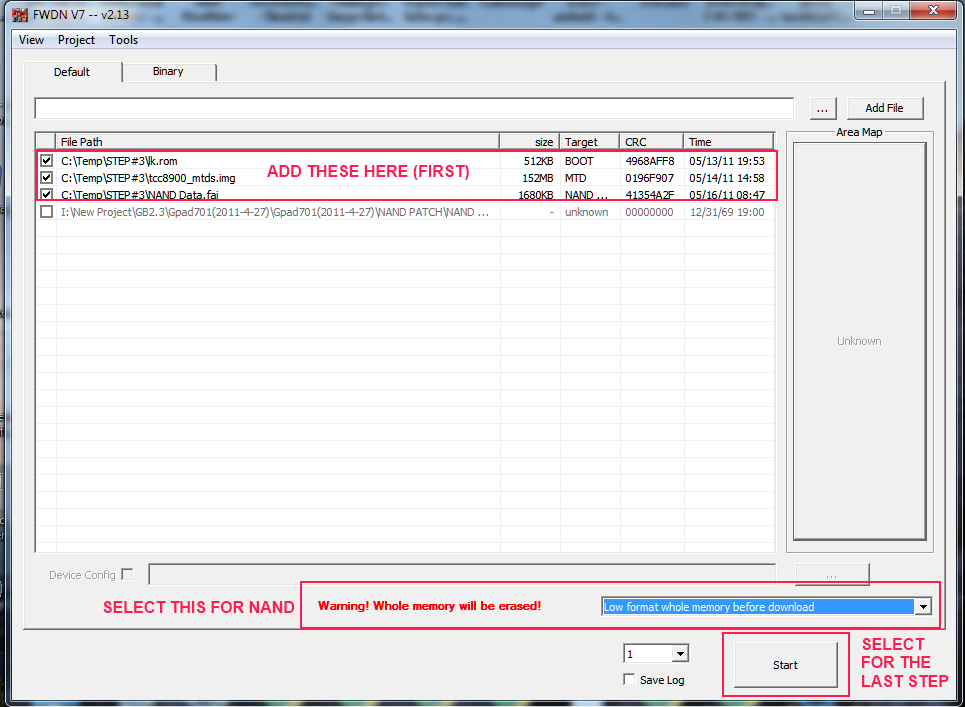 And a pic when it was successfully installed.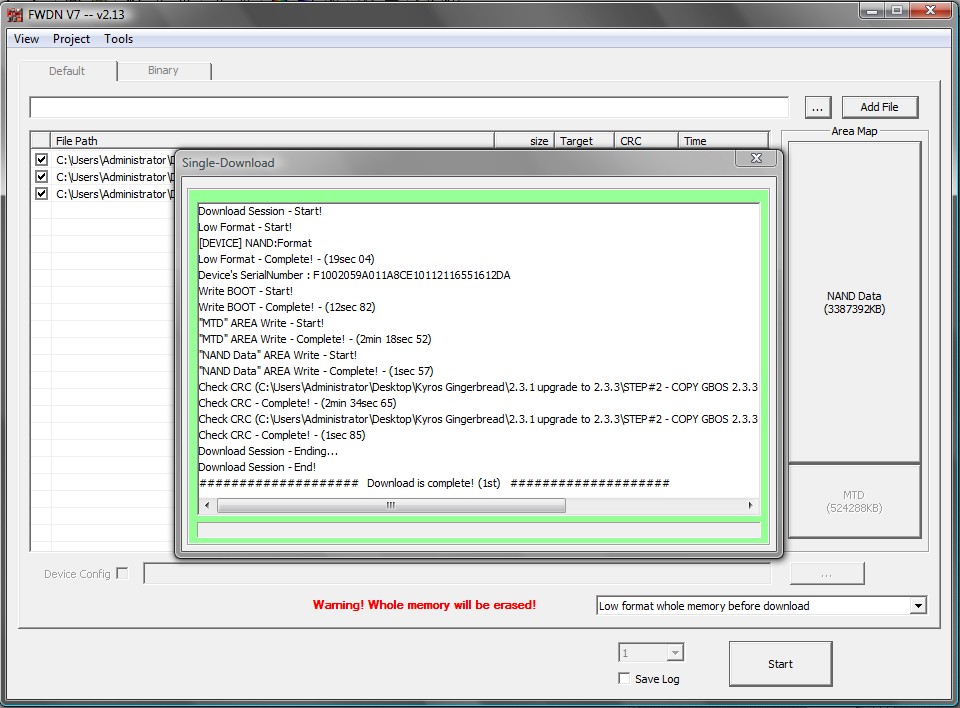 With the some what dangerous part finished you can move on to rooting and installing ClockWorkMod. This part is very easy. It uses the ADB.exe from the Google SDK to install files and give you write access to certain areas of the internal memory. These files are all put into scripts and will execute without any real knowledge of ADB at all. I will say if you have any problems though it is a good thing to do a search on commands and what they do.
Here is a pic of all the steps.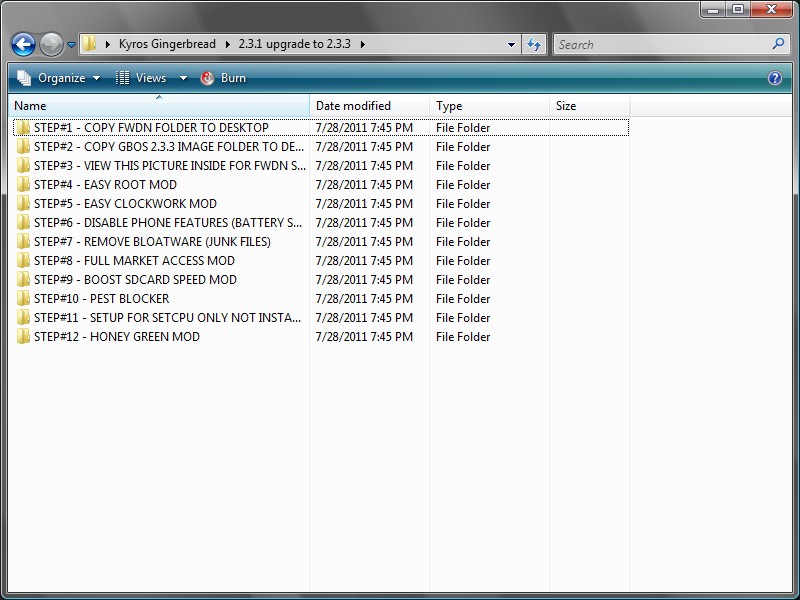 All of these steps are easy to follow and will be easy to accomplish. However everything after step 5 is really up to you if you want to do them. So you can do what you want after this, such as installing the Market fix and skipping the pest blocking. I skipped the SetCPU step.
Now that I have everything done and the Kyros has rebooted and is up and running there are a few things I had problems with. Brent brought up the Apps2SD not working and I did verify that. I did some research and they said it is a permissions issue that has to be fixed. There is also a problem with the Dolphin browser force closing, I experienced that as well. Finally I had apps that would not install from Market such as 9 Inning Baseball, Angrybirds, and Pogoplug. These all just gave me errors and would stop. I will say that the speed of the interface is really nice. It would zip with just the slightest touch. Also the boot time was a lot faster. Once they get a few of the bugs ironed out this will be the best Rom I have ever seen on the Coby Kyros.
So you have some thinking to do. There are some issues but the performance is really really good. What I did was made a backup of the 2.3.3 image and then returned back to the 2.3.1 backup I made before the upgrade. I did this for a few reasons. The first is that some of the apps I use the most did not work on this upgrade. Second is I really had the 2.3.1 install setup exactly like I wanted it. So some of the problems could just be from me but others have been brought up by several others. I am going to play around with 2.3.3 on my second Kyros I have and then keep 2.3.1 on the on I use. All in all this is a really good ROM and with a few more bug fixes it will be outstanding. Tipstir at the Kyros Tablet Zone has done a very good job. So check it out.
LINKS
Android 2.3.3 Download (Will need to register with site for download) HERE

There is also a 2.1 to 2.3.3 file there that just has the image files for both 2.3.1 and 2.3.3. Make sure you get the right one.