Desktop virtualization for Windows and Linux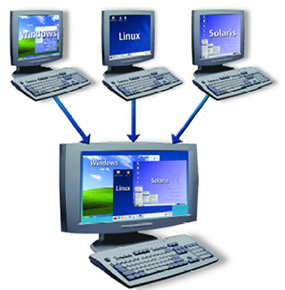 I recently read an article that talked about desktop virtualization and how these three stacked up to each other.  The article is from InfoWorld and was very interesting.  Part of the article follows:
VMware Workstation 7 is still king for developers and techs, but innovative VirtualBox 3.1 and easy-to-use Parallels Desktop 4 gain ground
VMware Workstation has long been the gold standard of desktop virtualization. Powerful and sophisticated, yet easy to use, this pioneering tool sets the bar for solutions addressing this niche product category. In fact, VMware Workstation has been so far out in front for so long, it's hard to imagine a world in which this bellwether product isn't the class leader in virtually every category.Yet in the past few weeks, the unthinkable has happened: VMware shipped a new version, VMware Workstation 7, and it wasn't the class leader, at least in terms of scalability — and perhaps ease of use or, for that matter, overall value.
In terms of scalability, VMware has been eclipsed by Sun Microsystems, which is now shipping a version of VirtualBox that supports up to 32 virtual CPUs per guest OS. Similarly, VMware's lead in usability is being challenged by Parallels, which has finally brought the ease of use of its award-winning Parallels Desktop for Mac product to the Windows platform. And since both solutions are significantly cheaper than Workstation 7 (Parallels Desktop 4.0 for Windows retails for $79.99, while VirtualBox is completely free), they've backed VMware into a corner that seems to be getting smaller and smaller.  (Kennedy, Infoworld)
I am not an expert on virtualization but I have been using it for almost four years for various things, such as network testing, trying out new operating systems, and test security measures.  I have Vmware 5,6, and 7 and I agree that they are some of the best virtualization programs that are out there.  However it does cost and you can get a lot of the same features from a free product such as Virtualbox or even Microsoft Virtual PC.  I have recently started using Sun's Virtualbox and really like it.  First off it is free, and has almost every feature that VMWare Workstation.  The one thing I really though was cool was the ability to allot memory for the video of the virtual machine.  I had not seen that before until I used Virtualbox and then later with Workstation 7.   If I didn't already have most of my virtuals built in Workstation I would use Virtualbox for everything.  Although VMWare virtuals are suppose to be able to run in Virtualbox, I have not tried it yet.  But I do use other applications such as ESXi server and using Workstation makes uploading easier.  I also use Virtual PC which isn't even in the ball park with the others, but I have used it in some of my Microsoft classes and have come to see some of the usefulness it posses.    So if you have not tried out virtualization give one of the free applications a shot, such as Virtualbox or Virtual PC.  You will find it is really a great way to practice your computer skills and even testing future software implementations.  The following are some of the features of each application.
VMWARE WORKSTATION
Windows 7 — Create and run Windows 7 32-bit and 64-bit virtual machines using VMware Workstation. VMware Workstation has been enhanced for performance and to take advantage of the new Windows 7 features including Live Thumbnails and Aero Peek.
Aero Glass — A new Windows Display Driver Model (WDDM) graphics driver has been developed for Windows Vista and Windows 7 virtual machines. The WDDM driver can display the Windows Aero user interface, OpenGL 1.4, and Shader Model 3.0. For more information on the VMware recommended graphics hardware.
Windows XP Mode Compatible — Import a Windows XP Mode virtual machine using VMware Workstation 7.0 and run the virtual machine without being prompted to enter a Windows XP license key. VMware Workstation enables the Windows XP Mode virtual machine to take advantage of more than one processor, render high-end graphics, integrate seamlessly with Unity, and transfer files easily with drag and drop, and shared folders. VMware Workstation also has the ability to run concurrently with Windows XP Mode.
3D Graphics Improvements for Windows XP guests — OpenGL 2.1 and Shader Model 3.0 support is now available for Windows XP virtual machines. The XPDM (SVGAII) graphics driver works with Windows XP, Windows Vista, and Windows 7. However, only Windows XP virtual machines install the XPDM graphics driver by default. To switch graphics drivers in the guest operating system.
vSphere 4.0 and ESX Support — Install and run ESX 4.0 as a guest operating system. VMware Certified Professionals (VCPs) and technical professionals can install the latest server virtualization software and experiment with server setup, conduct training, show demos, and test production configurations. Running ESX as a guest eliminates the need to have spare hardware available to run ESX natively and enables ESX to run on systems that are not listed on the ESX hardware compatibility list (HCL). For more information on the supported processors and host operating systems.  This feature is intended for educational and demonstration purposes only and should not be used in production environments. To use this feature, you must download vSphere 4.0 from the VMWare

Web site and follow the installation documentation provided with vSphere to install ESX.
Virtual Printing — Print from virtual machines without mapping network printers or installing printer drivers in the virtual machine. With virtual printing enabled in the virtual machine setting, all of the printers installed on the host operating system are available in the guest operating system.
Four-Way SMP — Create and run virtual machines with a total of four processor cores, which can consist of four single-core processors, two dual-core processors, or one quad-core processor like the new Intel i7.
32GB Guest Memory — Run virtual machines with up to 32GB of memory using VMware Workstation.
256-bit Encryption — Secure your virtual machines with AES256-bit encryption to prevent unauthorized users from accessing or running the configuration files.
AutoProtect —Schedule snapshots of your virtual machine to be created at a regular interval to ensure that you always have a snapshot available to revert to when needed.
Advanced Linux Sound Architecture (ALSA) — ALSA significantly improves the sound of virtual machines running on a Linux host and streams the audio from each virtual machine on a separate channel so that multiple virtual machines can be heard simultaneously.
Cross-Platform License Keys — Use the VMware Workstation 7.0 license key on both the Windows and Linux versions. Make sure you read the EULA for the terms and conditions that must be met when switching platforms.
Pause a Virtual Machine — Free your CPU resources instantaneously without powering off or suspending the virtual machine.
Expand Virtual Disks — Increase the size of the virtual disk from within VMware Workstation. For Windows Vista and Windows 7 guests, the disk partitions can be adjusted without the use of additional software.
Compact Virtual Disks — Reclaim unused space from a virtual disk so that the host or another virtual machine can use it.
Shared Folder Compatibility — Increased compatibility with many Windows applications that previously were unable to read or write files to shared folders.
On-Demand VMware Tools Download — On-demand download capability provides the latest VMware Tools for the guest operating system. This feature reduces the overall download size of VMware products by downloading only the required set of VMware Tools and and enables VMware to release new versions frequently.
Drag and Drop Enhancements — Drag and drop enhancements include support for new file types including images and formatted text and extend the existing ability to drag and drop files to a broader set of guest and host operating systems.
Virtual Network Editor — User interface enhancements have simplified creating and configuring virtual networks.
Fuse Mount for Linux — Use Fuse to mount .vmdk disks on to the file system of Linux hosts.
Simplified Collection of Support Information — Gather detailed information about multiple virtual machines and the host machine at the same time.
IPv6 Support — Create a bridged connection to an IPv6 network on VMware Workstation virtual machines.
Sun's Virtualbox
64-bit guests (64-bit hosts with CPU virtualization extensions or experimentally on 64-bit capable 32-bit host operating systems)
NCQ support for SATA raw disks and partitions
Snapshots
Seamless mode
Clipboard
Shared folders
Special drivers and utilities to facilitate switching between systems
Experimental OpenGL drivers for win32 and Linux to render on Host hardware
Command line interaction (in addition to the GUI)
Public API (Java, Python, SOAP, XPCOM) to control VM configuration and execution
Remote display (useful for headless host machines)
Nested paging for AMD-V and Intel Core i7
Raw hard disk access – allows physical hard disk partitions on the host system to appear in the guest system
VMware Virtual Machine Disk Format (VMDK) support – allows VirtualBox to exchange disk images with VMware
Microsoft VHD support
3D virtualization (Limited support for OpenGL was added to v2.1, more support was added to v2.2, OpenGL 2.0 and Direct3D support was added in VirtualBox 3.0)
SMP support (up to 32 virtual CPUs), since version 3.0
Teleportation (aka Live Migration), since version 3.1
2D video acceleration, also since version 3.1
Remote Desktop Protocol (RDP) control of VM
USB support, with remote devices over RDP
iSCSI support
Open Virtualization Format (OVF) support (import/export)
MICROSOFT VIRTUAL PC
USB support and redirection – connect peripherals such as flash drives and digital cameras, and print from the guest to host OS printers
Seamless application publishing and launching – run Windows XP Mode applications directly from the Windows 7 desktop
Support for multithreading – run multiple virtual machines concurrently, each in its own thread for improved stability and performance
Smart card redirection – use smart cards connected to the host
Integration with Windows Explorer – manage all VMs from a single Explorer folder (%USER%\Virtual Machines)
Official guest support for legacy operating systems earlier than Windows XP Professional
Drag and drop file sharing between the guest and the host
Ability to commit changes automatically to the VHD when saving or discarding changes. Changes must be commmited to the VHD manually from the settings dialog.
Parallel ports are no longer supported.
Floppy disks are not supported from the user interface but are supported using scripts
Shared folders in DOS virtual machines no longer work. Support for this was removed in Microsoft Virtual PC 2007 but would still work if you installed the VPC 2004 VM Additions for DOS.
I didn't say anything about Parallels Desktop 4 because I have never used it.  It is a Mac application.