Is the iPad next big thing?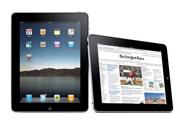 To get this all started I don't hate Apple products and I am defiantly not a Fanboy of Apple.  I'm kind of the middle of the road.  Just to clear that up with some of the Apple haters and cult that seems to warship Apple.  To get everything going I read a bunch of article before that loved the iPad and that pointed out its weak points.  Then I went to the store and messed around with one.  I will say I didn't buy one though.  I will tell you why a little later int he article.
First let start with the specs.
Size and weight
Height:   9.56 inches (242.8 mm)                    Width:    7.47 inches (189.7 mm)

Depth:    0.5 inch (13.4 mm)                              Weight:  1.5 pounds Wi-Fi model;  1.6 pounds  Wi-Fi + 3G model

Wireless
Wi-Fi model:
Wi-Fi (802.11a/b/g/n)
Bluetooth 2.1 + EDR technology
Wi-Fi + 3G model
UMTS/HSDPA (850, 1900, 2100 MHz)
GSM/EDGE (850, 900, 1800, 1900 MHz)
Data only2
Wi-Fi (802.11a/b/g/n)
Bluetooth 2.1 + EDR technology
Capacity
16GB, 32GB, or 64GB flash drive
Processor
1GHz Apple A4 custom-designed, high-performance, low-power system-on-a-chip
Battery and power
Built-in 25-watt-hour rechargeable lithium-polymer battery
Up to 10 hours of surfing the web on Wi-Fi, watching video, or listening to music
Up to 9 hours of surfing the web using 3G data network
Charging via power adapter or USB to computer system
Input and output
Dock connector port
3.5-mm stereo headphone jack
Built-in speaker
Microphone
Micro-SIM card tray (Wi-Fi + 3G model only)
Price
Wi-Fi
16GB
Ships: 5-7 business days
Free Shipping
$499.00
32GB
Ships: 5-7 business days
Free Shipping
$599.00
64GB
Ships: 5-7 business days
Free Shipping
$699.00
Wi-Fi + 3G 3G
16GB
Ships: Late April
Free Shipping
$629.00
32GB
Ships: Late April
Free Shipping
$729.00
64GB
Ships: Late April
Free Shipping
$829.00
After using the iPad  I liked the screen and the ease of use.  This has been a pretty common theme with Apple products.  However I didn't care for the virtual keyboard, it is awkward.  Watching movies is awesome with great color and resolution.  But it was a little light on included applications.  I know you can purchase more for it but I thought it would have a few more included in the package.   If I was to do work I would have to pull out my laptop.  I know you can buy a keyboard for it for an additional $70 but you really can't use it on a plane or in an airport.  I do think it would be a great eBook or document reader, allowing you to move around easily doing inspections or inventories.   Also the weight didn't bother me; however I did read some articles that said it was heavy and awkward to hold.  I do like the fact that you can have a 3G version which makes it truly a mobile device.
Things that I didn't like were the small storage and the inability to add additional storage such as an SD card, flash drive, or even an external hard drive.  This would make me have to limit the amount of data I keep on the iPad.  Plus you still have to sync it with a computer to upload any data you want to add that can't be accessed through the internet.  The biggest problem I found was the price.  It is a little pricy for a device that I can only use for entertainment.  I'm sure people will say I'm crazy but I would really only use it for movies and internet as I travel.  Plus it doesn't replace anything I already have.  I will still need a cell phone and a laptop/desktop.  Not that I would want to make calls with the iPad.  I read that it doesn't multitask but I didn't really check out that fact.  The last thing is that I will have to purchase everything from Apple for the iPad.  This is another problem I have with Apple itself.  You have to get everything from the Apple store.  This gives them the ability to charge anything they want for additional software or hardware for the device.
All in all it is cool and I like having the ability to have a light, computing device that I can walk around and use at the same time.  However I don't think I will buy one.  It isn't that I can't afford one, it is the fact that it doesn't replace any of the devices I have already.  This makes it a luxury that I don't really need.  So maybe in the future when they change things or if there is a hack developed that makes it more useful to me I may buy one.  So if you have one already enjoy it, and I hope this is the future of bigger and better mobile devices.
So if I upset you with my opinion, maybe you should open your mind a little and try not to be a Apple fanboy.  If you are happy and think I am bashing Apple, I'm just saying it doesn't fit into my life or work.  Anyhow check it out you will either love it, hate it, or not have a need for it.  Not that you need but here are a few picture of the iPad.