Stream Music on the go with Subsonic


Subsonic is a free, web-based media streamer, providing ubiquitous access to your music. Use it to share your music with friends, or to listen to your own music while at work. You can stream to multiple players simultaneously, for instance to one player in your kitchen and another in your living room. I ran into this music streamer while I was on SourceForge.net just checking out software. It looked like something I wanted to try out so I did.
Here are some of the features of Subsonic.
Listen to your music from anywhere – all you need is a browser.
The clean web interface is optimized for constrained bandwidth environments and efficient browsing through large music collections (hundreds of gigabytes).
Free-text search helps you find your favorite tracks quickly.
Displays cover art, including images embedded in ID3 tags.
Assign ratings and comments to albums.
Common playlist features (add, remove, rearrange, repeat, shuffle, undo, save, load).
Stream or download music directly to your phone. Apps available for Android, iPhone and Windows Phone 7
Use the AIR desktop application, SubAir.
Control Subsonic from any mobile phone or PDA, using the WAP interface.
Supports multiple simultaneous players. Manage any player from any location.
Upload and download files to/from Subsonic, with automatic zipping and unzipping.
Supports MP3, OGG, AAC and any other audio or video format that streams over HTTP.
Transcoding engine allows for streaming of a variety of lossy and lossless formats by converting to MP3 on-the-fly.
Works with any network-enabled media player, such as Winamp, iTunes, XMMS, VLC, MusicMatch and Windows Media Player. Also includes an embedded Flash player.
Tag parsing and editing of MP3, AAC, OGG, FLAC, WMA and APE files, using the Jaudiotagger library.
Playlists can be saved and restored. M3U, PLS and XSPF formats are supported. Saved playlists are available as Podcasts.
On-the-fly resampling to lower bitrates using the high-quality LAME encoder. Handy if your bandwidth is limited.
Implements the SHOUTcast protocol. Players which support this (including Winamp, iTunes and XMMS) display the current artist and song, along with other metadata.
Users must log in with a username and password. Users are assigned different privileges.
Specify upload and download bandwidth limits.
Use HTTPS/SSL encryption for ultimate protection.
Supports authentication in LDAP and Active Directory.
Runs for months without crashing, hanging or leaking resources.
Download Podcasts with the integrated Podcast receiver.
Manage your internet TV and radio stations.
Play music directly on the server's audio hardware using the jukebox mode.
Installing this server is really easy. You just download the install package and install it on a Windows, Linux, or Mac computers. I installed it on my web server and configuration was pretty simple. Here are screen shots of the server interface on a Windows machine.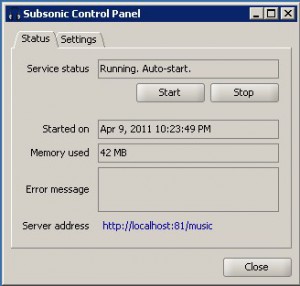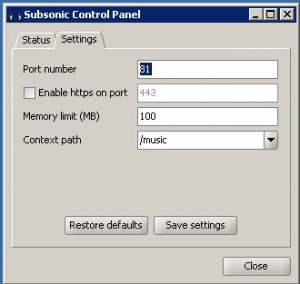 It can be setup to run on pretty much any port you want. However to get it outside of your home network you will have to use port forwarding to get through your firewall. There is an option to configure the router automatically, but I have never been to fond of automated software messing with my firewall.
The web interface is easy to use and is good looking. The way I it is setup on my server is with a alphabetic list on the left an area that shows the album art and songs on that album. At the bottom is the web player. Here is a pic of the web page.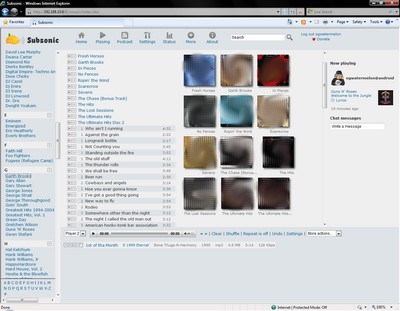 I like it. It has access to settings and statistic on who is accessing the server. It will show what they are listening to and for how long. You can create user accounts and what type of player you will use to listen to the music. You can also configure showing the track, bit rate, duration, album, and etc. You can also create play lists that will be stored so you can access them when you login again. The server will also transcode your music to mp3s and videos to flv before sending them over the network. So converting your music is unnecessary.
The main reason I was interested in Subsonic is the mobile apps that you can download to access the server. There are apps for Android, iPhone, and Windows 7 phones. I have Android tablets and wanted to be able to stream my music to them. There is a draw back, the apps are only good for 30 days. After that you have to give them a "Donation" to get a key to allow you to continue to use the app. This is really cool for streaming to your mobile device and the Android interface is not bad. You setup a server in the settings and it will logon to the server automatically when you open the Subsonic app. You can build play lists and scroll through all of the music on the server. It will also display the album art if available. Here is some pics of the mobile interfaces.
Android


iPhone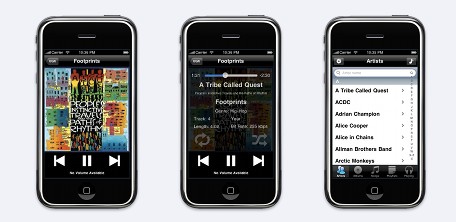 Windows Phone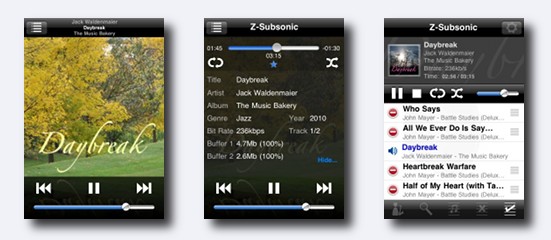 It is suppose to be able to stream podcasts as well but I have no interest in doing this so I can't say how well it works. This is truely an easy to setup and use music streamer. The only dislike I have is the FREE application that requires a DONATION to use premium features. Not that I'm cheap but free doesn't generally come with a required donation. Anyhow it is great and the web interface does not require a donation to use. I like this application and I really like the mobile apps. I may not replace my Jinzora installation for Subsonic, but it is something that every novice computer operator can install. Check it out at: http://www.subsonic.org/pages/index.jsp